La Fabiola company are: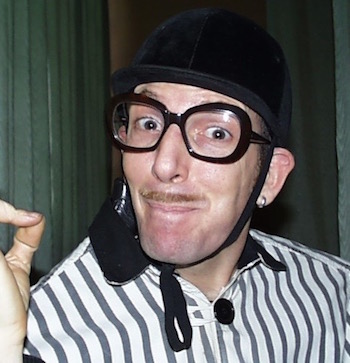 GIANCARLO CASATI
Born in the XX century, after an anonymous life spent under his fur, he finally decides to shave.
Women from all over the world are confused, performers are on strike, politicians say "he looks younger" (ya, right).
Clown, juggler, equilibrist, skater, biker, wild waters rafter, guitar player when it still made sense to be a punk rocker, but also worker, clerk and "househusband", in short all things that make somebody's life normal or crazy.
From 1995 he performs in the streets and on stage - he travels the world as far as he can with his van and when he can't, he flies.... Genial, isn't it?
STUDIES AND TRAINING:
CLOWN
⁃ Jean menigault ("98 e "99)⁃ Pierre Byland (2001)⁃ Eric de Bont (2003)
MIME
⁃ Ives Lebreton (2000)
JUGGLING
⁃ Gandini ("98)⁃ Conventions in Italia-Germany- - Mexico
MARIONETTE
. tecnic of construction with Stephen Mottram
previous shows that have contributed to its artistic formation
⁃ ETA E BETA (duo)⁃ SUPERGIù more or less a superhero
⁃ AUGA (duo GIN E TONIC)⁃ PARATA KEBAB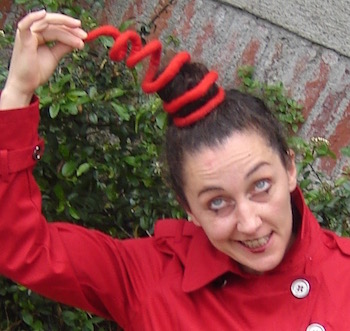 NIVES VALSECCHI
For tragic reasons of pronunciation I begin like dubber of the voice of dinosaurs, I gave up a successful career as a tester of hydromassage tubs without water ...
and now I'm here
STUDIES AND TRAINING:
CLOWN
⁃ Pierre Byland (2001)
⁃ Eric de Bont (2003)
MARIONETTE
. tecnic of costruction: self- thought
previous shows that have contributed to its artistic formation
⁃ ETA E BETA (duo)
⁃ MISSIS MUMBLE